I found this linky on Teaching in Room 6's blog and think it's such a great idea for this time of year. I have been blogging for a short time, but I have made friends, found some amazing teaching blogs, and accumulated fantastic products and ideas along the way
Which blogger finds am I most thankful for? It's tough to answer without creating the world's longest blog post, but here are a few:
Teaching Blog Addict
- Wow, was this a great find the day I discovered teaching blogs! I was so thrilled to see a site with tons of blogs linked up based on grade level. There weren't many second grade blogs on there at the time, which is the reason I started my own blog. Thanks, TBA!
Classroom Freebies and Classroom Freebies, Too!
- These are great blogs full of awesome products created by talented teachers. I think many of the freebies should be paid items in their stores, but I'm not complaining! I feel so lucky to be a contributor to
Classroom Freebies, Too!
Teaching Blog Traffic School
- I am loving Charity's videos and am slowly but surely making my way through them. It's worth the money if you dedicate yourself toward following her advice and are patient. I have to admit that I haven't been on it lately, but now that report cards and conferences are almost over, I can refocus and catch up on my TBTS videos!
Ladybug's Teacher Files
- This was a treasure for me because Kristen has blog tutorials (so needed), great free resources for Daily 5, and classroom organization ideas. I can't wait to follow her tutorial on creating thumbnail galleries for my blog's pages. Did I mention she has another blog called Bitten By the Blog Bug? She designs blogs for teachers and they are adorable! She was not able to do mine, but it's ok because Pamela at The Posh Box was awesome to work with and I love my blog design!
Art Projects For Kids
-This is my go to blog for art project ideas and I don't know what I did without it! I have done so many projects from there, but our latest one was this scarecrow painting. My students did a fabulous job with it and they enjoyed the process of creating something original rather than completing a cut and paste project.
And now for a some of my favorite blogging buds: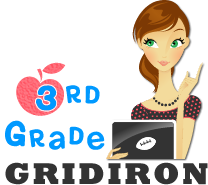 Dana from 3rd Grade Gridiron has given me great advice about blogging and even donated an item for one of my giveaways. I think her blog is full of great ideas and I love her store products. Check out her
Thanksgiving Mini Math Pack
!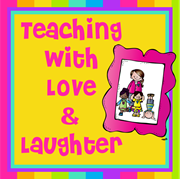 Teaching With Love and Laughter
- Lori is so amazing and I follow her blog closely. Her
store
is filled with fun scrambled sentence products and my kids love her Scoot games. She was also very generous with the blogging advice and giveaway products!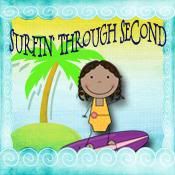 Surfin' Through Second
- Corinna has a great second grade blog and I love her posts about teaching in Hawaii. I am looking forward to teaming up with her for the next product swap because she makes great products. She's even starting to create graphics for teachers to use in our products.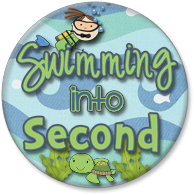 Swimming Into Second - Courtney has amazing ideas and her stores are full of high quality products. She has a Freebie page on her blog that is worth a look. I definitely look up to her as a fellow blogger and her willingness to give advice and feedback has been much appreciated!
OK, Blogger is acting up and I've lost some of my data because things are going goofy on me. Boo, hoo! I will have to recommend more fabulous bloggers and products another time. I truly appreciate the hundreds of bloggers who have made me a better teacher and who are supporting me through this blogging journey. I am most thankful to you all!
Do you have any favorite blogs or store products that I should check out? I'd love to read about them in the comment section below. Happy End of the Week!