Welcome to third Magical Product Swap, hosted by Jessica at
Mrs. Stanford's Class
. I love this swap because bloggers get a chance to team up, choose a product from each other's store, and review it!
This time I am particularly excited because I partnered up with one of my favorite bloggers out there. Her name is Corinna and her blog is
Surfin' Through Second
. She lives and teaches in Hawaii, which is such an amazing opportunity for a non-native Hawaiian. Corinna also teaches second grade and has shared many great ideas in the months that she has been blogging about teaching in Hawaii. You really have been missing out if you haven't read her blog. Be sure to watch the video she posted about pigeon language on the islands. It's so fascinating!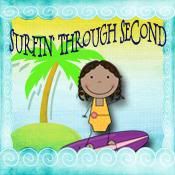 Our swap of products differs from many others because Corinna has begun making clip art and, like all creators of teaching products, I LOVE clip art! I'm truly addicted and can never have enough. So, I asked if I could choose Corinna's adorable
Heart Doodle Frames
from her shop and have created a Valentine's Day product to showcase her work. Nice twist on the swap, eh?
Her frames are hand drawn with a heart theme. There are
over 40 frames
to choose from with filled or transparent backgrounds for only $3.00. There are even a few extras not shown in the previews.
Adorable, huh? I think so, too. That's why I created the following activity for our second graders, who love Valentine's Day.
These games are fun for all students who need to practice telling time and I am giving it away through Sunday! After that, it will be on sale for $2.00 in my stores. Click on the picture above to download it by Sunday.
Now here's the most exciting part - Corinna and I are giving away her
Heart Doodle Frames
and my
Winter Is Snow Much Fun
products to a lucky winner. All you have to do is follow our stores to enter (very simple) and cross your fingers!
a Rafflecopter giveaway